Digital spiritism
LE SPIRITISME EN LIGNE. La communication numérique avec l'au-delà.
The inner conversion with the dead has always existed, and would even be specific to human being. The web is a new frame to develop such conversation. This phenomenon can be situated in the crossing of two major practicies: on the one hand, the development of post mortem digital identities and in the other hand, the transfer of the spiritualism practicies to digital devices. In the aim to examine these two emerging forms of funeral rites on the internet, this paper proposes an analysis of the cultural lineage of "transcommunication" or digital spiritualism. The denial of death in the twentieth century gives rise to new forms of dialogue with the dead.
La conversation intérieure avec les défunts a toujours existé, au point qu'elle serait le propre de l'humanité. Elle trouve aujourd'hui sur le web un cadre d'expression nouveau qui la modifie en la matérialisant. Avec le développement de l'identité numérique post mortem d'une part, on voit apparaître dans les réseaux socionumériques et sur le web de plus en plus de profils d'usagers décédés ou encore de pages dédiées à la mémoire des défunts, sur lesquelles les usagers peuvent exprimer leur deuil et leur douleur. En outre, le spiritisme, apparu en Europe en 1853 avec les fameuses « tables tournantes », trouve sur internet un creuset pour l'émergence de nouvelles pratiques de dialogue avec les défunts. Dans la finalité d'interroger ces deux formes émergentes de rites funéraires sur internet, cet article propose une analyse de la filiation culturelle des pratiques de transcommunication par le numérique. Le déni de la mort, phénomène caractéristique du XXe siècle, serait poussé à l'excès sur internet, donnant naissance à des formes inédites de dialogue avec les morts.
Fichier principal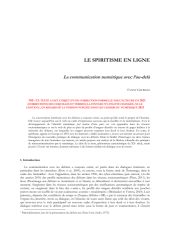 LE SPIRITISME EN LIGNE corrections fg 2021.pdf (734.09 Ko)
Télécharger le fichier
Origin : Files produced by the author(s)